Crypto2Cash is a European company, which makes the frustrating job of selling cryptocurrency easy and fast. The founder of the company has several years of combined experience in Bitcoin and the financial market. These years of experience was used in the ideation of Crypto2Cash.
Crypto2Cash fundamentally is an app, which allows its users to convert cryptocurrency into cash and deposit it into their bank accounts directly. It supports converting multiple cryptocurrency options to any of these currencies EUR, USD, CAD, AUD, GBP, MXN, DKK, ILS, CHF, NZD, SEK, JPY, TRY, HUF, THB, CZK, HKD, NOK, PLN, RON, SAR, SGD, and ZAR. Other than these, this app also supports on-demand conversion of other currencies like INR, AED, CNY/RMB, PHP, IDR, MYR, and KWD.
To let users easily convert crypto into currency, Crypto2Cash wanted to build a platform.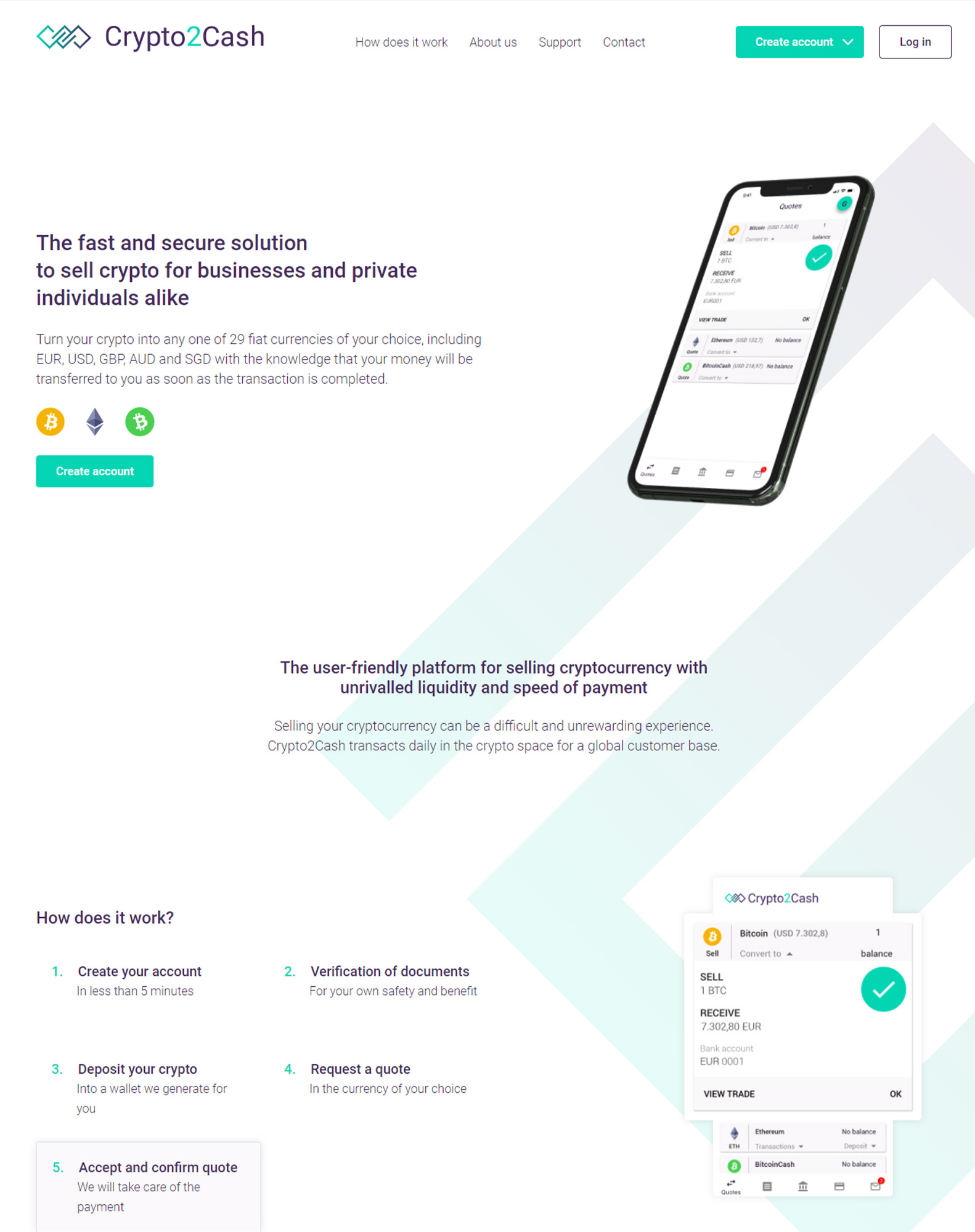 The benefits of Orange Genesis
We strive for high customer satisfaction. That is why we offer the following benefits in the projects we handle:

Kotlin, Swift, App Controller, PHP, HTML 5, XML, JavaScript, AWS Server API's
Kotlin, Swift, Java, JavaScript, AWS Server

A web app, plus, Android and iOS mobile apps to let users safely, quickly, and effortlessly convert crypto to cash and deposit the converted cash in their bank accounts.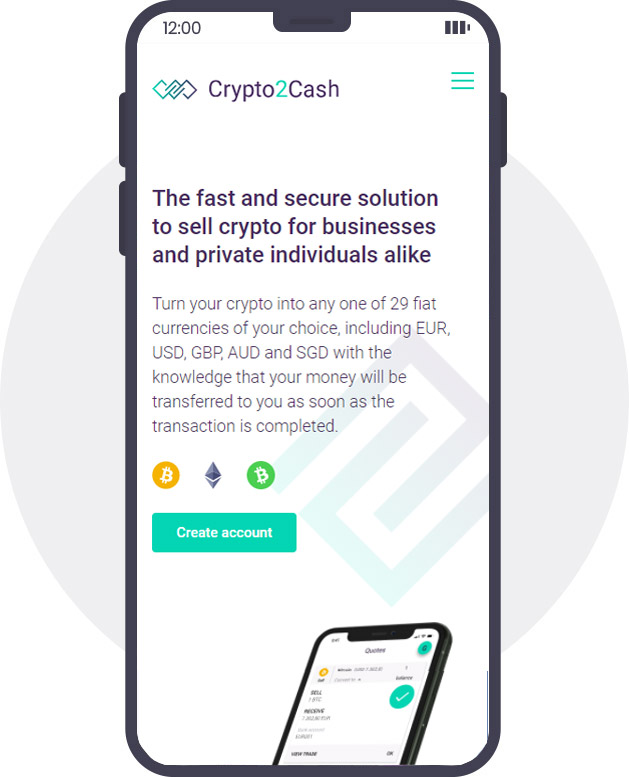 Customized themes and layouts for Android and iOS apps
Custom theme design for web app
Easy signup process
Profile creation
Automated document verification for KYC
Strict rules for KYC such as customer has to take a picture in real-time using the phone camera and cannot upload it to from the gallery
Allow currency conversion based on the country of the user
Encryption of all data
Security mechanisms to keep customers and their data safeguarded such as:

Authorization, authentication, and accounting (AAA) use
Login allowed only in any one device at a time
Inactive users will be logged out of the app automatically after a specific interval
Until verification of the customer is completed, the app will not allow customers to convert currency into cash

Round the clock customer services
And many more
Quick and easy signup and profile creation within 5 minutes
Extremely secure use of the platform via a web app and mobile apps
Hassle free and quick conversion of cryptocurrency to usable country currency aka cash
Direct deposit into the bank account
Comply with European KYC (Know Your Customer) and AML (Anti Money Laundering) compliances
App access available to global customers
Supports multiple currencies
Support several cryptocurrencies
Enhanced customer satisfaction
Increase the productivity of employees
And many more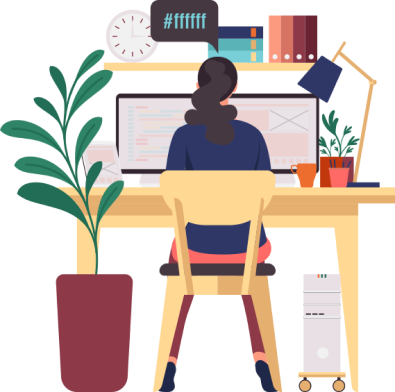 Solution We Provided to Our Customer Crypto2Cash
When the representative of Crypto2Cash shared their concept, we recommended them to go for web app development as well as mobile app development for both platforms. We also handpicked the platforms for web app development, iOS app development and Android mobile app development. Our creative designers designed captivating and uncluttered designs for mobile apps and web app. Once the designs were selected and integrated, our web app and mobile app development experts worked in parallel to build the Crypto2Cash apps within the stipulated time. They developed the whole concept of converting different types of cryptocurrency into valid currency in the country of the user. In addition to that, our team developed multiple features to introduce automation, so the productivity of the team and the satisfaction of the customers can be increased. Our developers also make sure that the apps adhere to European KYC (Know Your Customer) and AML (Anti Money Laundering) compliances very strictly. As the app is related to financial transactions, we had taken several measures to ensure that the data and money of users are highly protected. Encryption, email and phone verification for sign-in, and only a single device login allowed are some of the security mechanisms we have integrated into the web ad mobile apps. We have also integrated some third party APIs into this software to add additional required features and provide a holistic platform to its users. Our customer, Crypto2Cash is happy with our deliverables and services. We are in discussion for the next phase of development with the customer and will work on an ongoing basis with the company.